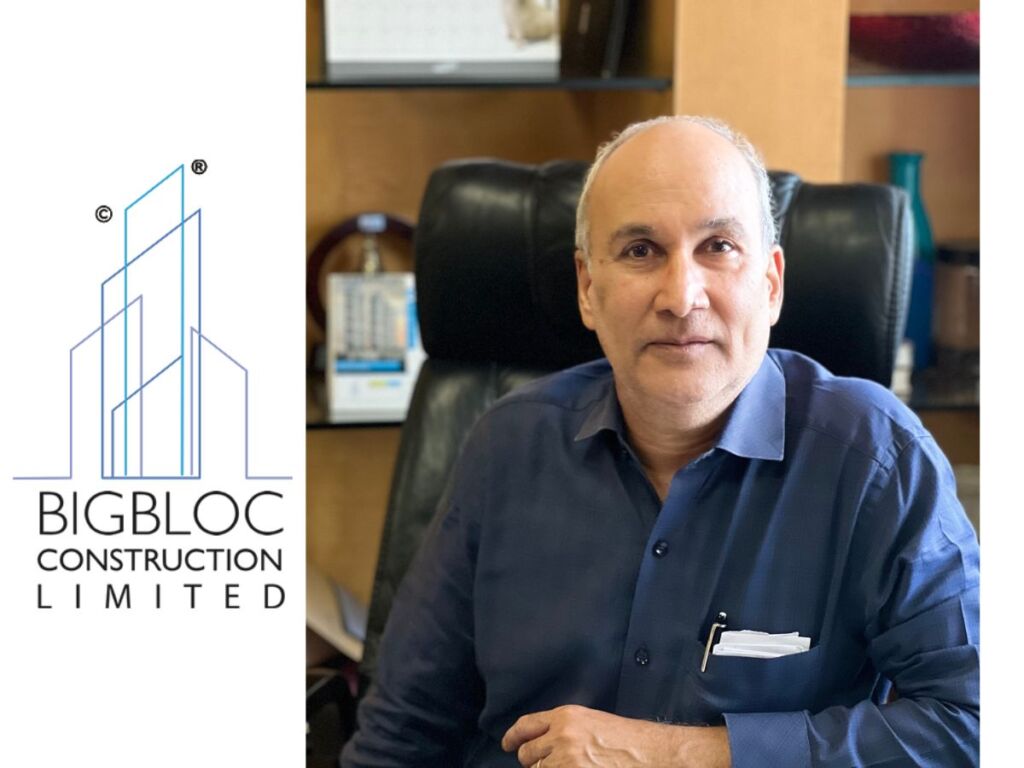 Mr. Narayan Saboo, Chairman & Managing Director, Bigbloc Construction Ltd
Company to install 450 KW Solar Rooftop facility each at Umargam & Kapadvanj plant
Highlights:-
§  Company will be able to replace 33% of its electricity consumption through renewable solar power
§  BigBloc is the only company in the AAC segment which generates carbon credit. Expects to generate 2.5 – 3 lakh units of carbon credits per annum post all expansions are completed
§  Company is setting up two greenfield plants with combined capacity of 8 lakh cubic meter per annum.
§  Post completion of all expansion, Bigbloc will be the largest manufacturer of AAC blocks in India with the production capacity of 13.75 lakh cubic meter per annum
Surat (Gujarat) [India], April 1: With a commitment towards keeping the carbon footprints to the lowest possible, BigBloc Construction Limited, one of India's leading player in the manufacturing of green and non-toxic building materials including Aerated Autoclave Concrete (AAC) blocks, Bricks and Panels is installing solar rooftop projects at its Umargam and Kapadvanj manufacturing facilities. Company is setting up 450 KW solar rooftop facility at each of the plant.
Post commission of both the solar rooftop facilities, the company will be able to replace approximately 33% of its power requirement at both its plant with renewable green energy – solar power. Company will be investing around Rs. 4.5 crore towards the solar rooftop initiative.
Commenting on the development, Mr. Narayan Saboo, Chairman & Managing Director, Bigbloc Construction Ltd said "The increasing carbon footprint is a growing concern. Installing Solar rooftop is part of company's vision of making its operations carbon neutral in the medium to long term and minimise the impact on the environment. The company has a commitment towards the Construction and Infrastructure Industry of launching environment friendly and sustainable building products and solution. This initiative is a step towards becoming self-sustainable and environment friendly organisation with significant reduction in the Co2 emission."
Incorporated in 2015, BigBloc Construction Ltd is one of the largest and only listed company in the AAC Block Space with a capacity of 5.75 lakh cbm per annum. Green and non-toxic building construction material, AAC blocks are economical, lightweight, soundproof, fire resistance with superior build quality and saves energy, eco-friendly and economical too compared to traditional bricks. It is the only company in this segment that generates carbon credits from its operations. For FY22, Company reported Net Profit of Rs. 16 crore with EBITDA of Rs. 27.7 crore, Total Income of Rs. 175.8 crore.
Company is also setting up two Greenfield projects with a combined capacity of 8 lakh cubic meter per annum – 5 lakh cubic meter per annum plant at Wada, Palghar (Maharashtra) and 3 lakh cubic meter per annum in joint venture with Thailand' SCG Group Kapadvanj Ahmedabad (Gujarat). Post completion of both expansion, company's total capacities will increase to 13.75 lakh cbm per annum making the company one of the largest players in the country. Company also expects to generate around 2.5 to 3 lakh units of carbon credit every year post the expansion.
AAC is a natural and non-toxic construction material that saves energy and is eco-friendly for the environment. Use of AAC blocks in India is growing stupendously owing to increased awareness, growth in the infrastructure sector and preferences for low-cost houses amongst the builders and architects and several beneficial attributes over red clay and fly ash bricks. India is the second largest block manufacturer in the World after China. 
BigBloc Construction Limited is India's leading AAC block and related products manufacturing company. AAC blocks are a superior quality building material that provides an unparalleled blend of strength, lightweight, thermal insulation, soundproof, unsurpassed fire resistance and highly proficient building capability. Company markets its products under brand name 'NXTBLOC'. Company's manufacturing plants are located in Gujarat at Umargam near Vapi and Kapadvanj near Ahmedabad and cater to Maharashtra, Gujarat, Madhya Pradesh and Rajasthan. Company client includes Lodha, Adani Realty, Piramal Realty, PSP Projects, L&T, Prestige Group among others.
If you have any objection to this press release content, kindly contact pr.error.rectification@gmail.com to notify us. We will respond and rectify the situation in the next 24 hours.